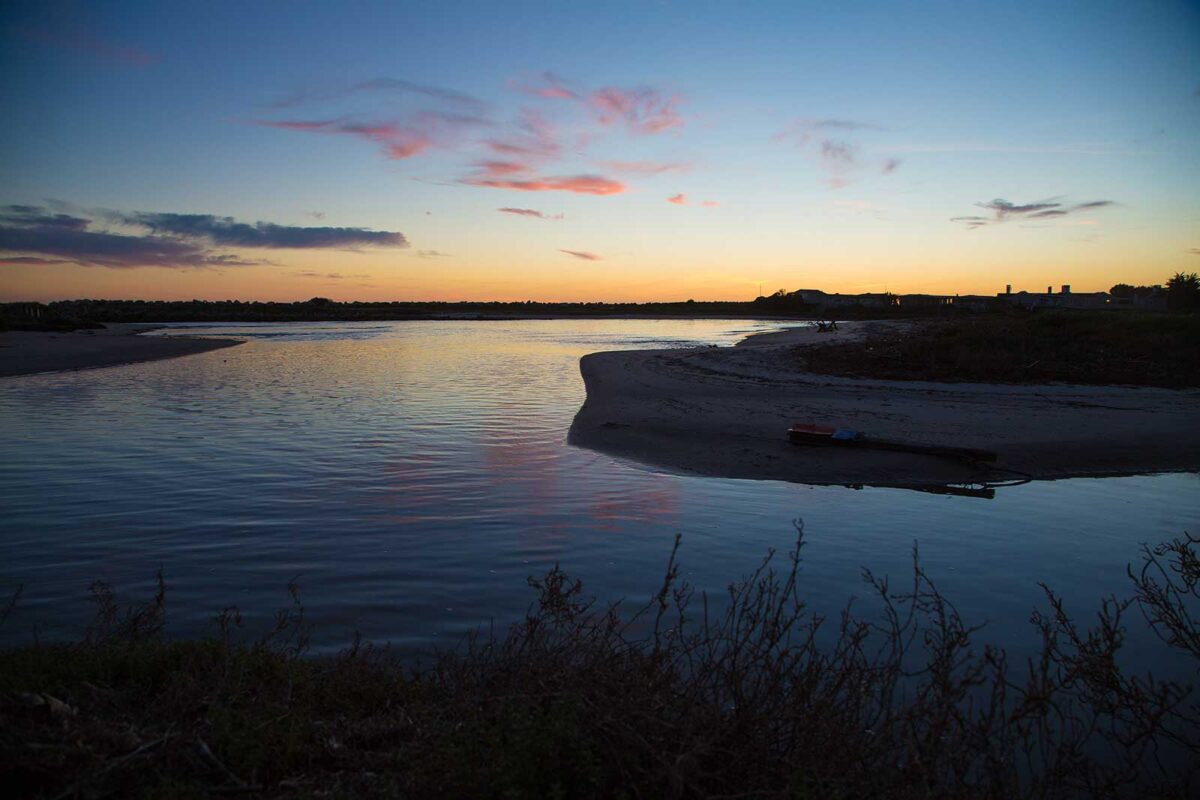 The Carpinteria Salt Marsh Reserve protects a critically important Southern California estuary which supports many sensitive plant and animal species. The site includes extensive wetland and channel habitats along with some uplands. It lies adjacent to a sandy beach, subtidal rocky reef, and kelp beds. The reserve provides habitat for migratory waterfowl as well as endangered plants and animals such as the salt marsh bird's-beak, light-footed clapper rail, and Belding's savannah sparrow. The Marsh serves as an important regional nursery for halibut and other marine and estuarine fish.
Origins
Carpinteria Salt Marsh was once part of the much larger El Estero wetland that is now largely occupied by the city of Carpinteria. UC Natural Reserve System founder Kenneth Norris identified Carpinteria Salt Marsh as a priority for the nascent NRS in 1966.Through a combination of gifts and purchases the University of California acquired the center portion of the marsh and established the Carpinteria Salt Marsh Reserve in 1977.
Fast Facts
Administering Campus: UC Santa Barbara
Location: Santa Barbara County, due west of the city of Carpinteria; 32 km (20 mi.) east of Santa Barbara campus.
Size: 49 hectares (120 acres) owned by UC; 93 hectares (230 acres) total habitat area
Site Elevation: 1 m below mean sea level to 3 m above mean sea level (-3 to 10 ft.)
Average Precipitation: 38 cm (15 in.) per year
Temperatures Range:
August maximum: 24ºC (75ºF)
January minimum: 6ºC (42ºF)
Location
Located 20 miles east of Santa Barbara, the Carpinteria Salt Marsh lies between CA-101 and the Pacific, an oasis surrounded by roads, greenhouses, warehouses and homes. A critically important Southern California estuary which supports many sensitive plant and animal species, the Salt Marsh extends to 230 acres. including the 120 protected acres that comprise the Reserve. The remainder of the Marsh is owned by The Land Trust of Santa Barbara County, the City of Carpinteria and homeowners living along the shore. The landowners, together with stakeholders in the community join with UC Santa Barbara in protecting this salt marsh ecosystem, now one of the most studied coastal wetland ecosystems in the world.
Research Areas
Ground breaking research has changed the way scientists view ecosystem relations in marshes as it was discovered that high numbers of parasites with complex
life cycles reflect healthy ecosystems. In a region where 93 % of the wetlands have been degraded or filled, the Reserve and its protected lands provide valuable
habitat to shorebirds, rare plans and an unusual mix of northern and southern coastal species. Other research includes: wetland ecology; vertebrate and
invertebrate zoology; impact of climate change in wetland vegetation.
Facilities and Uses
The Salt Marsh provides an interpretive area, teaching amphitheater and nature trail. Educational opportunities relating to biological cultural and other resources are utilized by UCSB and other universities and colleges. Local K-12 classes and youth groups conduct field trips to the Reserve and/or request talks and slide shows by Reserve personnel and local organizations (e.g. Santa Barbara Botanic Garden and the Santa Barbara Museum of Natural History) offer trips to the Salt Marsh as part of their educational programs.