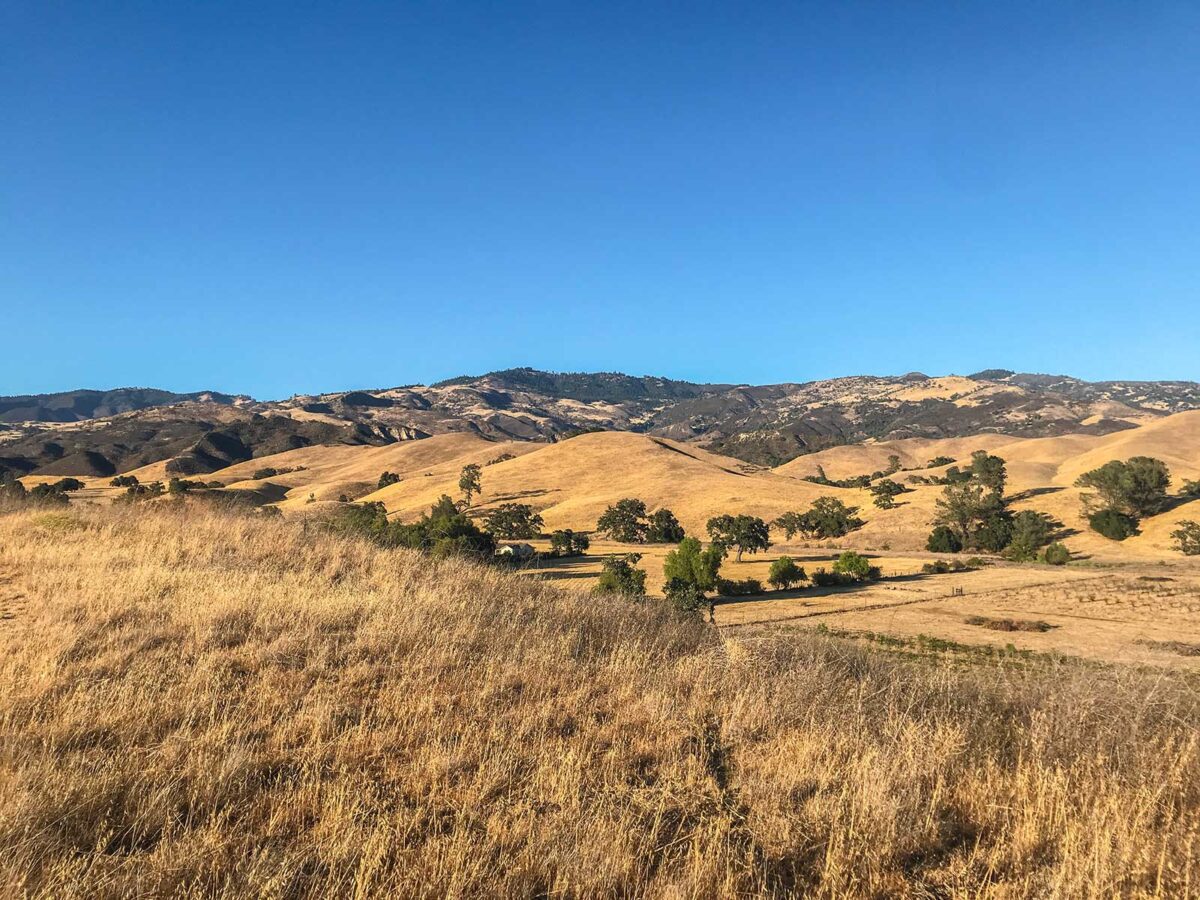 Encompassing 24 square kilometers (9.2 square miles) on the southern slopes of the San Rafael Mountains, the Sedgwick Reserve spans an elevational range of 500 meters (1,650 feet) and is noted for both its large size and environmental heterogeneity. The reserve contains a major geologic fault system and two distinctive geologic formations: relatively young Paso Robles alluvium and much older Franciscan metamorphosed seafloor, including large areas of serpentine. Diverse vegetation types include coast live oak forest, blue oak woodland, valley oak savannah, buckbrush chaparral, coastal sage scrub, grassland, willow riparian forest, serpentine outcroppings, and agricultural lands. The site contains major portions of two watersheds and a variety of localized wetland habitats, notably vernal pools. The region has a rich Native American heritage, and at least one Middle Chumash habitation site (1,500 to 2,000 years old) rests on site. The reserve's large size enables research of varying scales on native ecosystems.
Origins
Among the largest and most diverse protected sites in the UC Natural Reserve System, most of Sedgwick Reserve was bequeathed to UC Santa Barbara in 1965 by Duke Sedgwick–artist, rancher, philanthropist and father of Andy Warhol's muse, Edie Sedgwick. The balance of the property was acquired in a mid-1990's campaign led by the Land Trust of Santa Barbara County. In 1997, Sedgwick joined the Natural Reserve System. The Reserve's heritage created a pop culture mystique that imbues the property to this day.
Fast Facts
Administering Campus: UC Santa Barbara
Established:
Location: Santa Barbara County, in the Santa Ynez Valley; 56 km (35 mi.) north of the city of Santa Barbara.
Size: 2,388 hectares (5,896 acres), including a 317-hectare (783-acre) agricultural easement in favor of the County of Santa Barbara.
Elevation: 290 to 790 m (950 to 2,600 ft.)
Average Precipitation: 38 cm (15 in.) per year
Website: https://sedgwick.nrs.ucsb.edu/
Location
Located in the Santa Ynez Valley approximately 35 miles north of Santa Barbara, the Reserve is flanked by the Santa Ynez and San Rafael Mountains. The nearly 6,000 acres encompass nine square miles and two complete watersheds, and are ideally suited for scientific investigations at watershed and landscape scales.
Research Areas
Grassland ecology and oaks are a principal research topics with dozens of scientists from multiple universities studying the Reserve's native flora. The Byrne Observatory at Sedgwick is the first astronomical facility to be built on an NRS reserve and allows for exploration of an increasingly rare California resource: clear, dark night skies. The La Kretz Research Center at Sedgwick Reserve is a resourse for researchers and students who work at Sedgwick. The center is a hub for coordinating research, providing data, geospatial data resources, field work support, orientation, and networking opportunities.
Facilities and Uses
A number of excellent facilities provide day use by university classes and public groups and housing for visiting researchers and students. A robust special event program is supported by volunteer docents who contribute their service annually and enable thousands of students and adults to visit the Reserve to participate in outdoor education classes, docent-led hikes, lectures, workshops and community events. For more information, visit the Sedgwick Reserve website.